I'm Cilia, Web Designer/Brand Strategist
I harness the power of Self Expression to create Brand Strategies and Websites for Impactful Women.
I am on a mission to help you confidently step into your leadership so you can live the life you love.
Free resources to be your Best Entrepreneurial Self
DIY Web Design Tips
Exclusive Brand Strategy Tools
How to Protect yourself from Social Media Addiction
Today, I want to talk about how to protect yourself from social media addiction. If you have a small business, social media can be an essential part of your growth.
The platform can be an exciting thrill of dopamine and is ever-changing to keep your attention.
All too often, you might find yourself scrolling longer than you intended to. Or maybe you find yourself overthinking about your next piece of content.

Sometimes, you lose hours down the rabbit hole of scrolling.
You could do something more important with your focus. Like spend time with people you love or indulge in self-care. How different would life look then?
As a small business owner, your success can depend on knowing how to protect yourself from social media addiction. Not to worry friend, I have a few tools for you.
I want to say first that nothing is wrong with you if you can't seem to stop mindlessly opening your social media apps.
These apps have powerful super computers behind them with artificial intelligence that has gotten SO GOOD at holding our attention. (Have ya seen "The Social Dilemma"??)
Their prime goal is to have us on these apps for as long as possible because the platforms can then sell ads…
Sounds kinda scary right? It's like we're in a matrix. You can choose to ignore this post and continue your romantic relationship with your screens. Or, you can take the "red pill" and gain back control.
Let's go…
Practice Mindfulness
Mindfulness is the most important tool for all areas of life. Develop a daily mindfulness practice with yourself.
This does not mean you have to sit on a cushion and chant. Find something that works for you.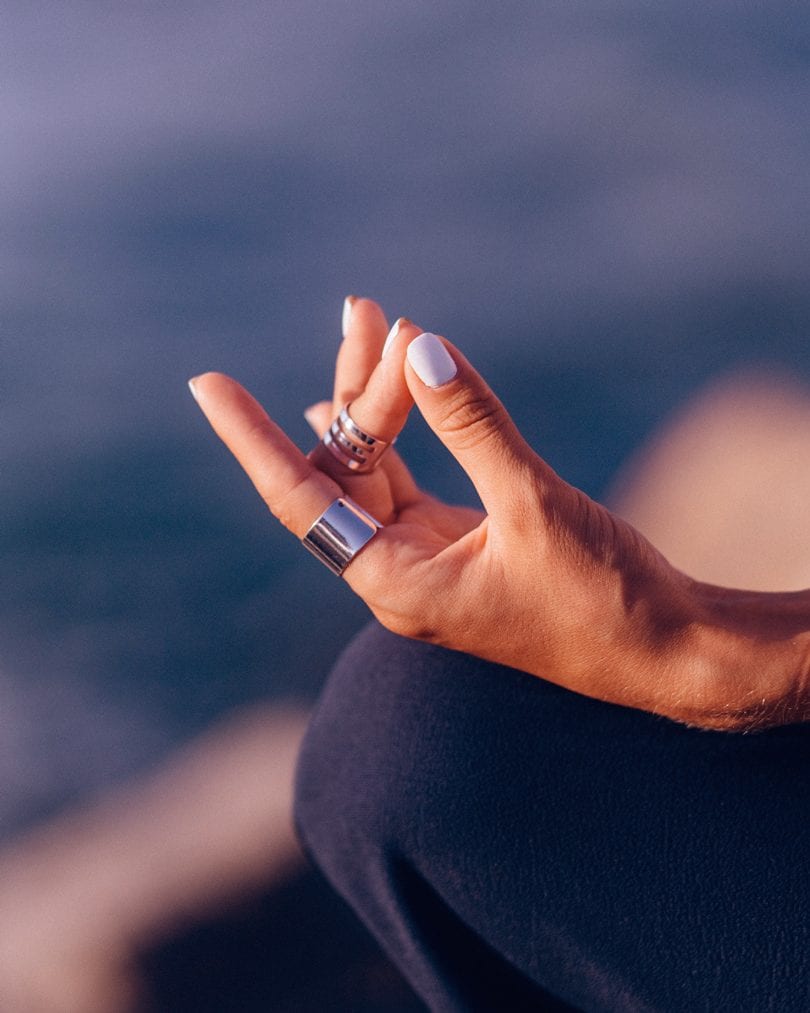 Basically you need to practice paying attention. And you need to practice this daily. This small action over time compounds to BIG results.
Do this first thing in the morning and maybe even right before you start your task of managing your business's social media.
Paying mind to what you are doing is the basis of how to protect yourself from social media addiction or any addiction.
The more you practice mindfulness, the more you will be able to pay attention when you are going through the day-to-days of life.
Set time reminders on your apps
Luckily, platforms like instagram have the option to set a daily timer that pops up on your whole screen after a specific amount of time on the app.
Go to your menu from your profile.
Tap on "Your Activity"
Under "Manage Your Time", tap on "Set Daily Reminder" and choose your time from there. I would recommend taking baby steps and aiming to spend 20 mins less than the daily average time you spend on the app already until you get to your goal.
Normalize Taking a Day Off
I remember about a year ago watching an Instagram story posted by Alicia Keys and she shared how she takes a day off of her phone every Sunday. I thought this was a powerful post because she mentions how we don't really think about just how much time we are spending staring at a screen. For most of us that can be pretty much always…
Set yourself up for success by letting everyone close to you know you won't be available and how to contact you if needed (I tell friends to call or I call them)
If you think this step will be hard, go ahead and delete your social media apps for one day. Don't worry love, you can download them again tomorrow.
Take an Extended Break
Once in a while, I like to take an extended break from social media for a week or more. If you're thinking this is impossible for your business, you can always set up posts ahead of time to publish for you and/or you can hire someone (like me!) to manage your social media accounts.
Plan Your Posts Ahead of Time
For a small business, planning your posts ahead of time not only helps you stay on brand, consistent, and time effective but it can be a big tool in protecting yourself from social media addiction.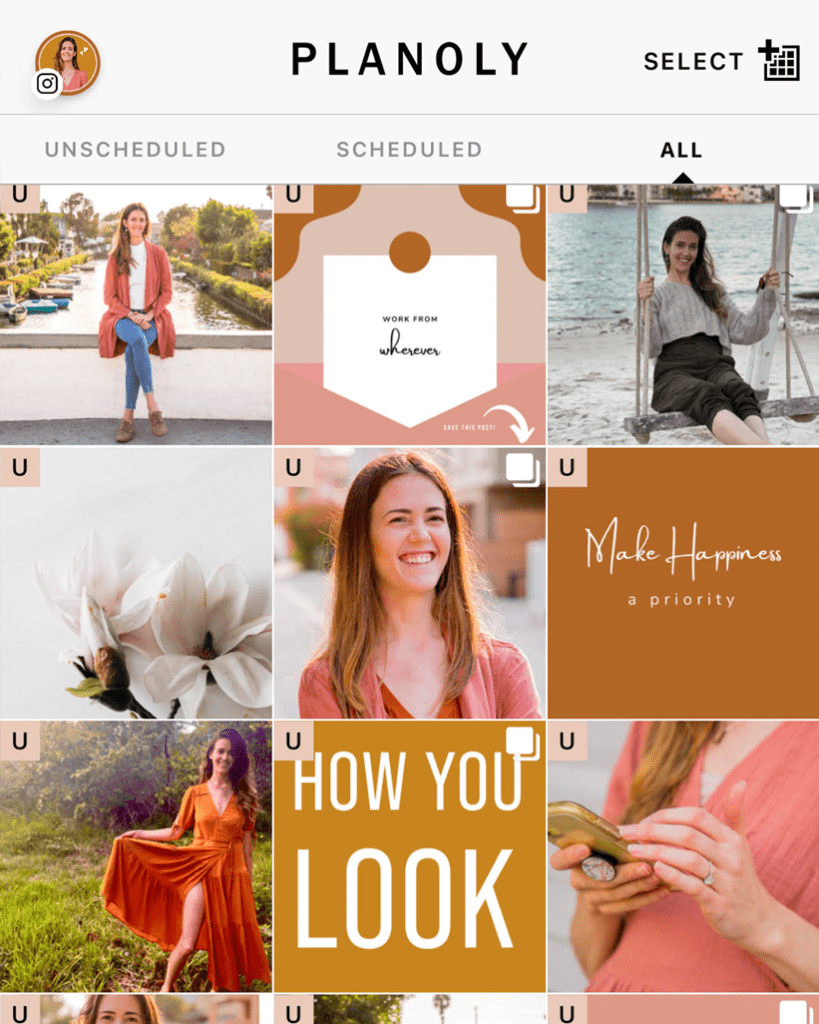 This works because you go into your platform with a plan. Make a schedule for yourself to plan your captions, posts, and to engage with your community.
When I started my business, I was using the free version of the Later App. See my IGTV tutorial here.
Now, I use Planoly where I can set up posts to auto-publish, plan my stories, and even plan out my Pinterest pins.
Be Intentional
When you take the time to engage on social media, set a timer. This not only protects you from mindless scrolling, it will make you move through posts quickly with intention of making new connections.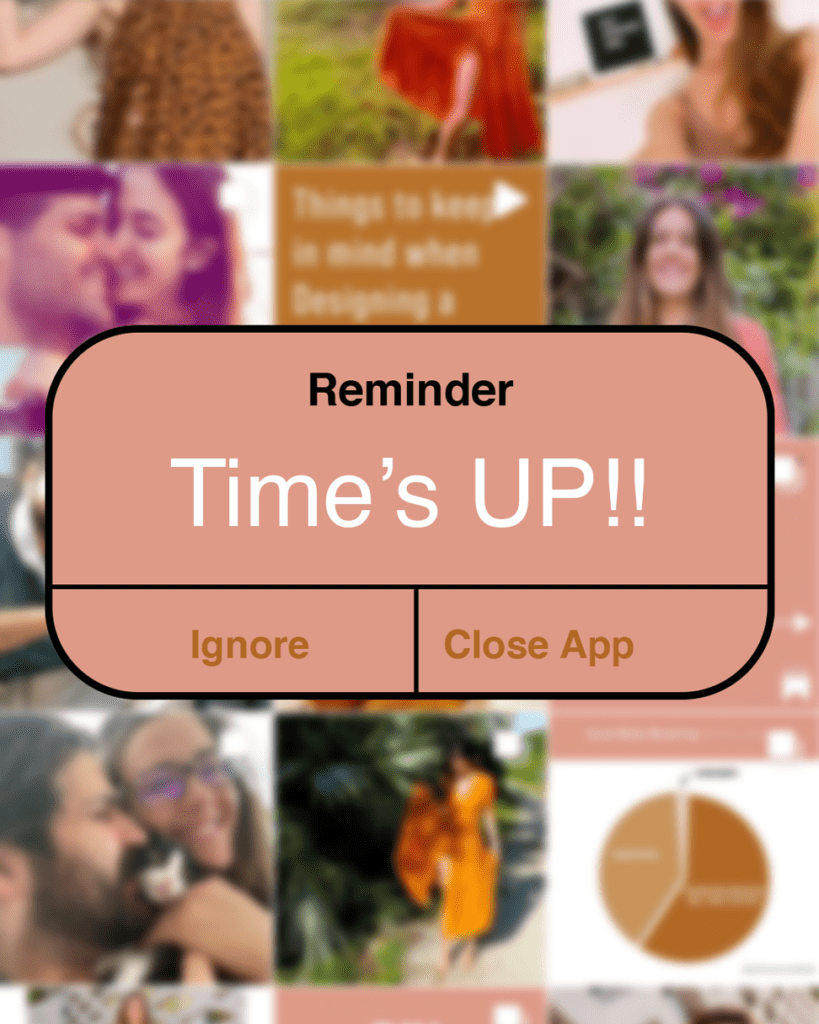 You'll want to do this with your posts too. Post every piece of content as something of value. Never posting just to post. Remember that in 5 years from now, if you've kept posting value, you'll have a lot of content that a new follower would LOVE to binge.
Get more tips on making the most of your content with these Instagram tools.
Learning how to be intentional with Social Media is a game-changer in knowing how to protect yourself from social media addiction.
"It can wait"
If your timer is up for engagement and you still have comments and DMs to respond to, know that it can wait. No one will unfollow you for not responding as soon as they've commented.
Since I get comments and DMs throughout the day, I like to set up three different time blocks of ten minutes to respond. That way I can have a nice break and I'm not stressed or overwhelmed.
If you want more tips on how to grow your social media with ease, get instant access to my Free 3-Day Social Media Mini Email Course here.
Save this post for later on your Pinterest Boards 🙂