Wednesday, Nov 1st, 12pm PST & Thursday, Nov 2nd, 12pm PST
Are you ready to have your best year yet?
Imagine 2024 as the year where you're even more at home in your heart and body.
Where you're creating the experiences you so deeply desire.
Where everything feels aligned and synchronistic.
Aligned & Embodied is here to guide you to make this happen by leading you home to your body & by helping you uncover your most authentic desires.
If you're ready to step into your power, embrace your authentic self, and create a year of radiant growth and alignment, save your spot right now below:
This beautiful modern life you get to live makes it easy to:
Disconnect from your full body and operate from the mind space
Forget to reflect & celebrate what's going well
Focus on what went wrong & carry that around instead of CLEARING it
Not know what you desire!!
Aligned & Embodied will guide you to reconnect with your full body so that you can align yourself to your truest desires for the best 2024, whatever that uniquely means for you.
I'm hosting this in the Fall because it's the perfect time to reflect and I think it's important to have this type of space for yourself before the busy-ness of the holidays set in.
Also, who else thinks doing this stuff on January 1st is NOT fun? (only me?)
Join me on this soul-nourishing adventure of self discovery and alignment so come Janurary 1st, you're already embodying your next-level self. (And maybe surrendering fully into the rest energy of winter like meee)
This whole experience, like all my work, is very body-led and grounded. You'll always be guided to come to your body & breath first and foremost as I think this is the BEST way to come to your truth.
The alternative approach would be to stay in the hustle and create your vision of 2024 based on what you "should" do...which is NOT what this space is.
You'll do that on day one of Aligned & Embodied by clearing and celebrating what has been.
In day two, you'll get crystal clear on what you want to create ahead of you.
And then, you get to surrender into the rest of the Fall gatherings and give yourself rest for the Winter.
Because you don't really want to be goal setting on January 1st, right?
In this 2-day experience, you're going to connect with your heart, you inner voice, and set the tone for your next steps forward.
We will breathe, move, groove, dream, and take action.
You walk away feeling aligned with your higher self, and a true embodiment of your values, your gifts, your magic...
Your alignment starts as soon as you sign up with the pre-workshop exercise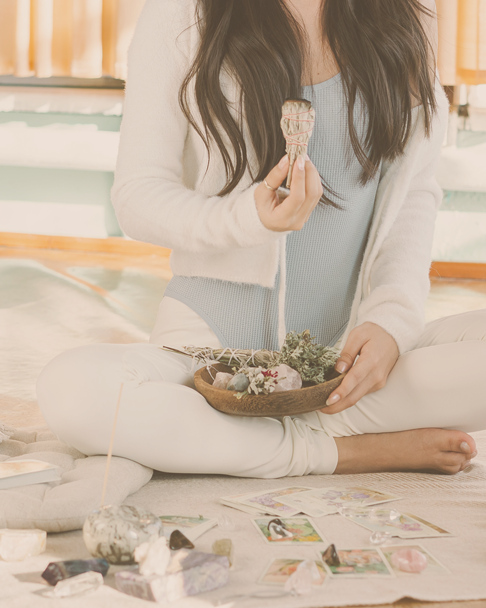 Grounding & body connection to hear your own voice and peal off layers of values and goals that aren't actually yours
Embodiment to clear what hasn't work, what isn't serving you, what isn't yours
Embodying your highest, wisest, most aligned, most GODDESS-y self!!
Celebrating the last 12 months in a way where you take up space (this is usually hard for those of us socialized as women to do!!)
Connecting with your truest desires to have a North Star to bring with you into 2024
A body-first approach where you'll be led with grounding, intentional breath, and embodiment work to clear & celebrate from 2023 and align & embody who you want to be in 2024
Two live sessions broadcasted to FB with an access link for you to join the video on Q+A or live coaching portions
Masterclass one: REFLECT
You'll be guided to celebrate any and everything from your year. You will be guided to TAKE UP MORE SPACE than you are used to. You will be held & supported by me & the others in the group if you choose to share your celebrations within the live call.
In the embodiment practice portion of this call, we will work with clearing out any gunk from the year of 2023 and moving our awareness from focusing on "what isn't working" to celebrate the things that DID go well
This is an intentional process to get you into the space to be able to come home to your body and realize your desires so you can be prepared for day 2!
Masterclass two: ALIGN
This will be the workshopping space where you will be guided to get crystal clear on what you want for the next year ahead.
You'll be guided with intentional prompts, with space to journal and ask questions and throughout this process you will be led on an embodiment journey so that your vision of the future can come from the truest space of what you REALLY want
Masterclass two: EMBODIED- Workshopping through stepping forward as your highest, most expanded self through specific prompts, and embodiment practices
Private FB group to connect with everyone & ask all your questions
You will need facebook to access this masterclass
Wednesday, November 1st 12pm- Masterclass one: REFLECT.
We will move through a process to celebrate, BRAG, and shine about what was great about our year. Nothing is too small to shine a light on here and you will be witnessed and cheered on in the group with your share.
We'll also move through an embodiment practice to CLEAR anything from our year or with us in the present that we want to take our power back from
Thursday, November 2nd, 12pm- Masterclass Two: ALIGNED & Embodied
We will workshop together to each get clear on what we want to call in next in our lives. We will move through intentional questions, have Q+A, and move through an embodiment experience together.
What if you knew exactly what to do to became a MAGNET to aligned clients, relationships, and money?
Good news. I'm here to help you do just that by guiding you back home to yourself with Self Love.
When I started my collaborative branding business, I saw the same pattern with my 1:1 clients:
Overwhelmed, Overbooked, and Underpaid
I knew I had to help turn their stress & anxiety into confidence & creativity so I used my past 6 years of experience in teaching yoga, meditation, and breath work to help.
Combining the spiritual side of my life with my coaching, I discovered a system that helps you get aligned, tap into an endless well of creativity, and get more done in less time.
I believe fully empowered women will change our world's paradigm, and that starts within you.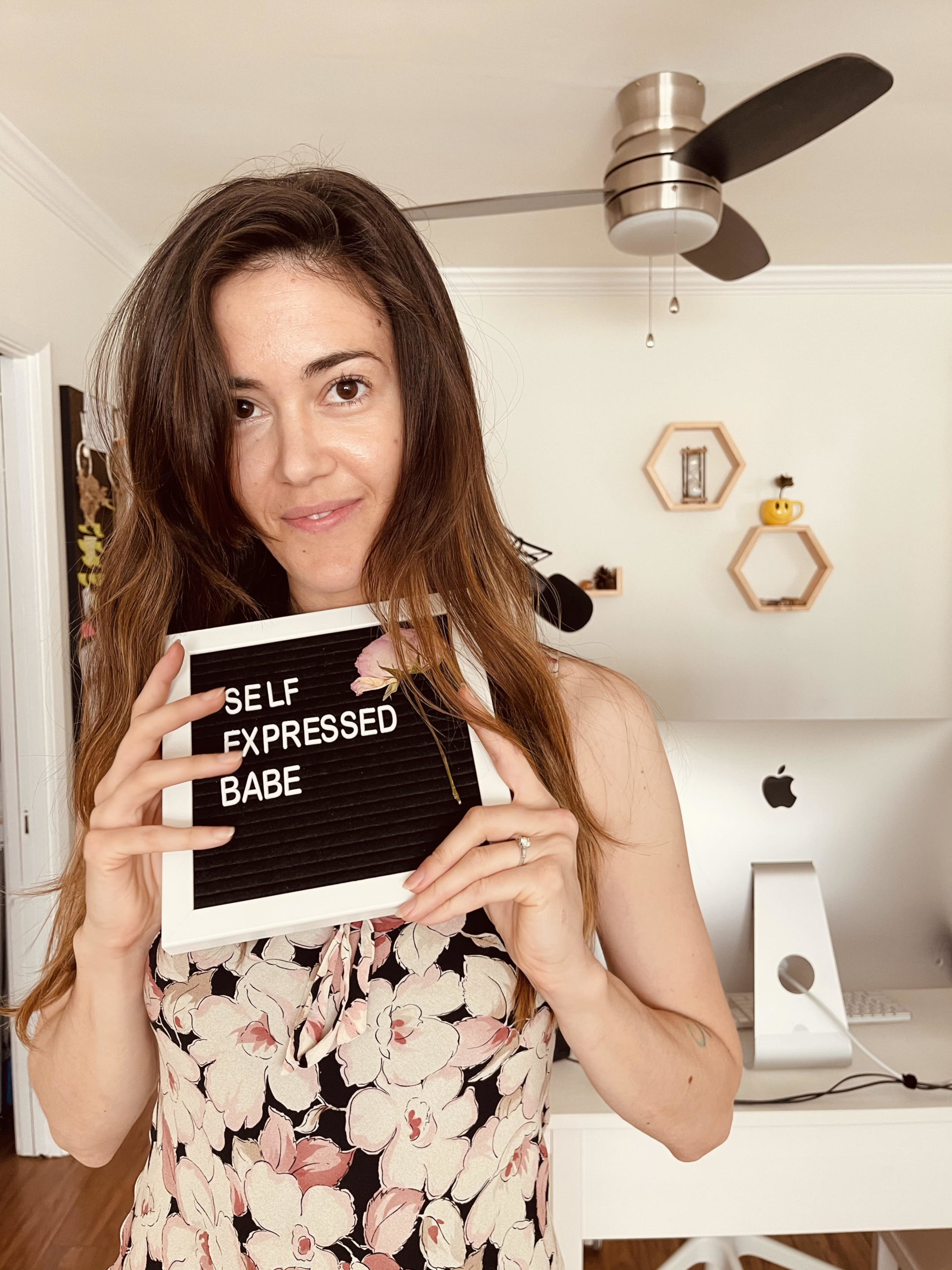 You're an explorer ready to meet the deepest parts of yourself, or maybe you've done this before & you're here for more!
You're open to change & growth. Coming into deep embodiment might mean your previous goals change. You're ready to embrace that & make the aligned moves for your own growth 
You have courage & vulnerability because you know it takes authenticity & an open heart to step into your power
Come ready to do the following:
Cilia's communication and demeanor made it so calming to work with her. She took me from overwhelmed to clear & focused. -Gabby S, Spin Instructor & Fitness Center Director
As a new business owner, I felt a bit lost and overwhelmed. Cilia helped me get a clearer understanding about my target audience. I recommend her if you need help with your branding and content creation! -Joanna C, Virtual Assistant
Before working with Cilia, I was doing a million things with no results. I was exhausted and about ready to give up on my business. I'm so grateful for the shifts Cilia helped me made! Now I'm living in purpose, my business feels good, I manifested my DREAM relationship, and things just keep getting better. -Chelsea B, Spiritual Life Coach
High recommendation for anyone who are looking  to go to the next level with a great persona such as Cilia.  Thank you so much! -Shani M, Real Estate Broker
I'm amazed at how much easier it is for me to create content and sell my offers!! Cilia will help you get paid for being you! Highly recommend working with her -Chloe M, Wellness Coach